Tiffany lamps are based on the design of glass artist Louis Comfort Tiffany and are characterized by a beautiful stained glass effect, which brings not only light, but also color and warmth into any interior. In our range you will find more than 400 Tiffany lamps inspired by Mackintosh. All lamps are of high quality, are manufactured by hand and meet European standards.
LumiLamp is specialized in atmospheric and timeless Tiffany lamps since 1985 and that makes them the biggest European wholesaler in Tiffany lamps. With a wide range you can browse through different styles and related series. Stained glass has never been so beautiful.
The Art Nouveau period lasted from about 1890 until around 1915. It was characterized by intricate linear designs and flowing curves based on natural forms. This was a very stylish period in history that predates the Art Deco era. We have such great examples in this collection that represents how stunning the Art Nouveau styled designs can be. Let us inspire you!
A very playful theme which is both stylish and funny. It contains beautiful colors, gorgeous designs and decorative styles. These items do not only bring light, but also add color and warmth to any interior. Add something special and choose a special object from the Decorative collection.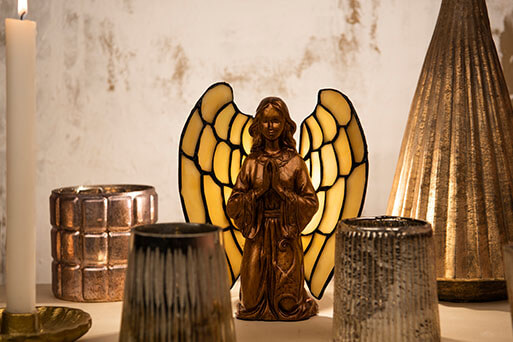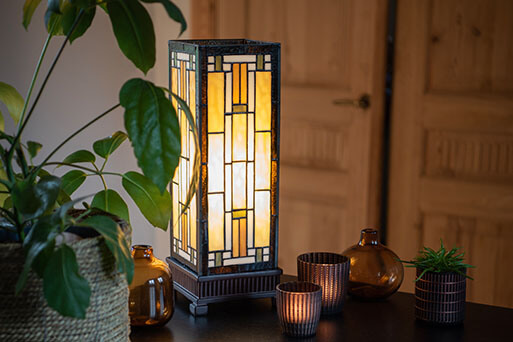 Geometrical designs became very fashionable during the Art Deco period. Typical is the use of symmetrical, cohesive patterns which are used repeatedly throughout the designs. Some designs have different pieces of striking colored glass, whereas other designs are more detailed and vibrant. The use of contrasting and striking colored glass is typical in this style.
The natural style is very traditional. It is the first style which has been created and is all about floral designs, floral motives and creations inspired by nature. Think of all the treasures that nature brings. Take a look at the pure artwork and the colorful touches of nature.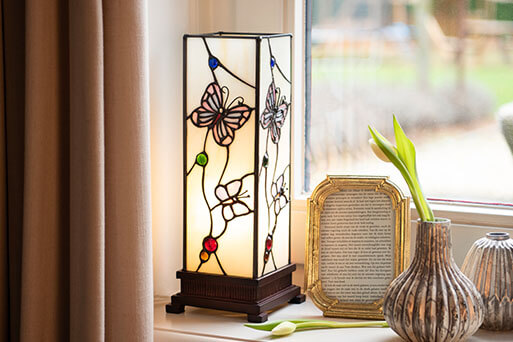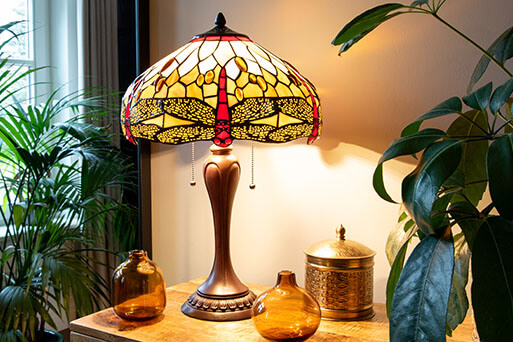 This category is entails the types of designs which were originally crafted by the Tiffany Studio. The best known creation is the Dragonfly design which is still available today in many variations and colors. This classic style features different colored backgrounds with glass jewels and a border of dragonfly wings. The dragonfly body is always highlighted and the eyes picked out with sparkling glass beads.
Lighting is the most important element in our interior and creates more atmosphere in your home. Think of ceiling, wall, floor and table lamps. Within a good lighting plan, all these segments should be sufficiently present for a nice and cozy balance. Within our Tiffany collection there is also room for a number of series. With these series we offer you the opportunity to dress all important segments in your house with the same atmosphere. Watch our series here!
follow us for more inspiration
Looking for even more inspiration? Follow us on social media and discover the most colorful and beautifully designed lighting.