At Clayre & Eef you will find everything you need for a cosy Christmas. Tink in styles like traditional red and green, natural, gold or create a lovely mix of different styles. Don't just think of Christmas decorations for the Christmas tree, but also of table decorations, Christmas gifts, window decorations, bell jars, nutcrackers, candle holders and textiles. With our collection you can create an atmospheric Christmas in no time. Christmas isn't a season, it's a feeling!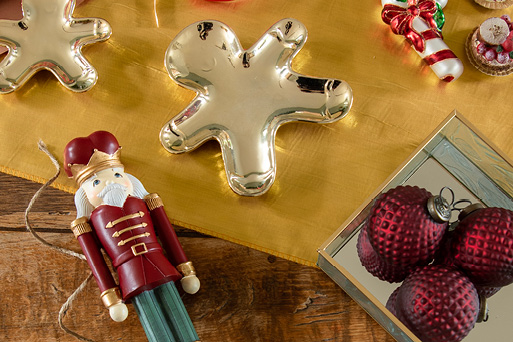 Gathered around the table with family and friends. A style embracing glitter and sparkle. Traditional, lavish and atmospheric. With ingredients such as reindeers, traditional red and green and luxurious Christmas decorations. With the nutcracker as an eye-catcher. This style takes you back to basics, to what's important... It's the most wonderful time of the year.
Christmas with a modern twist. Soft pastel colors, lovely statues and figures and beautifully set tables offer a brand new variant on traditional Christmas. Colors such as snow white, winter blue and soft pink form a calm base. With decoration in the same tones, this style keeps its mellow appearance, but also creates the ultimate Christmas feeling in a less traditional atmosphere. Let's go pastel!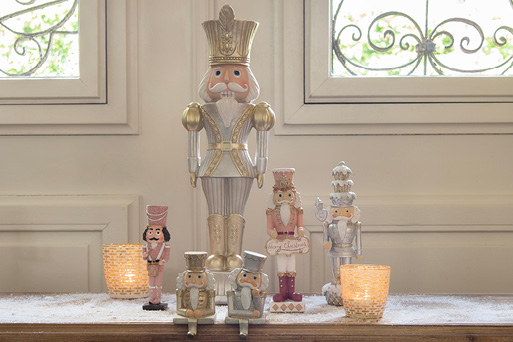 follow us for more inspiration
Create enchanting Christmas magic with the versatile Christmas collection from Clayre & Eef
At Clayre & Eef, the wholesale leader in home decoration, we are ready to make your Christmas season unforgettable with our stunning Christmas collection. Discover the enchanting world of nutcrackers, Santa Clauses, Christmas trees, kitchen textiles, tableware, and candle holders, and let your home shine with a blend of styles and trends. Embrace the Christmas spirit in all its glory with our high-quality products that elevate your festive celebrations to a whole new level. Celebrate this season in style with Clayre & Eef, your leading wholesale supplier in home decoration!
At Clayre & Eef, we understand the timeless charm of nutcrackers during the Christmas season. Our collection features an extensive assortment of beautifully crafted nutcrackers in various sizes and designs. From classic styles to modern variations, these colourful companions will undoubtedly bring a smile to your guests' faces and transform your home into a magical winter wonderland.
Surprise your customers with exquisite kitchen textiles and tableware from our Christmas collection at our wholesale store. From elegant table runners and festive placemats to dazzling tableware designs, our selection will transform any dining table into a Christmas feast. Let your store shine in a festive and cozy ambiance with the enchanting products we offer as a wholesale supplier.
Atmospheric Candle Holders
Create a warm and inviting atmosphere in your store with our breathtaking candle holders from our Christmas collection at the wholesale. Our Christmas collection offers a variety of designs, from traditional to contemporary, allowing you to present your candles in a stylish and safe manner. Enjoy the dancing flames and add a touch of magic to your Christmas evenings with the splendid selection we provide as a wholesale supplier.