Spring is the favorite time of the year for many people. Nature begins to bloom and birds are singing at their fullest. A beautiful period that symbolizes a new beginning. Easter couldn't be missed this season. Think about brightly decorated tables and spending time with family. Celebrate this event in style with the best Easter items. There is plenty of choice in every style, create your own style and your own Easter happiness!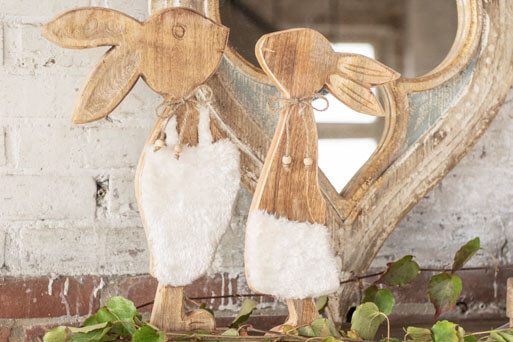 A peaceful style that radiates authenticity. With elements that remind us of our childhood. The use of wood, soft colors - in both accessories and tableware - and beautifully designed textiles give this style everything we are looking for in a warm Easter atmosphere. Rustic but atmospheric.
This theme is all about color! Beautifully designed ornaments, bright crockery and colorful details make Easter a colorful celebration with the Easter rabbits starring the lead role. This style offers plenty of inspiration for a beautifully set table. Choose color and enjoy a colorful Easter.
A series that brings joy. The use of bright designs and cheerful colors makes this textile a must-have this Easter. Combine with accessories in pastel shades or with items in calm wood accents. Reflect the joy of Easter with Happy Bunny.
Pure tranquility is the perfect description of this beautiful series. A fresh look with a cute approach that creates a calm, but cozy Easter atmosphere while dining. Enjoy the beautiful moments to come. With this textile series you will never miss a beat and you can turn Easter into a wonderful celebration.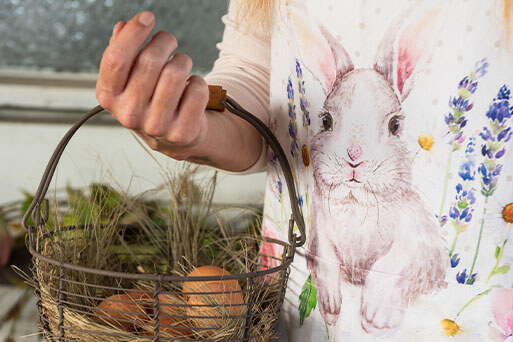 Imagine yourself in France where the lavender fields bloom profusely. This textile series takes you into 'la vie belle'. Enjoy summer dining with a beautifully set table and elements that brighten up your kitchen in this soft and authentic style.
follow us for more inspiration